Bar TFT - 3.9" Series
Winstar 3.9" Bar type WF39B series TFT display is featured with resolution 480x128 pixels; built in with Driver IC HX8278, it supports RGB interface; 3.3V (typical) power supply; supports Sync mode and DE modem, default Sync mode. The luminance for this series is from 350 ~1000 Nits; contrast ratio of 500:1, gray scale inversion direction 12 o'clock.
This panorama widescreen 3.9 inch WF39B TFT-LCD display offers high quality and colorful image; it is especially suitable for server system, audio system and advertising display, auto/aviation/marine equipment, security equipment, Industrial equipment, outdoor intercom systems and control panels, medical equipment, drone controls.
Picture

Model No.

Description

Controller

Touch Screen

 
WF39BTLASDNN0
3.9" Bar TFT panel
Brightness 500 nits
Supports SYNC or DE mode
No
No
 
WF39BTLASDNT0
3.9" Bar TFT with resistive touch panel
Brightness 350 nits
Supports SYNC or DE mode
No
RTP
 
WF39BTLASDNGA
3.9" Bar TFT with capacitive touch panel
Brightness 400 nits
Supports SYNC or DE mode
No
PCAP
 
WF39BSQASDNN0
3.9" Bar TFT panel
High Brightness 1000 nits
Super wide temperature -30℃ to +85℃
Supports SYNC or DE mode
No
No
 
WF39BTZASDNN0
3.9" Bar TFT panel
Brightness 400 nits
Supports SYNC or DE mode
O Film Technology
No
No
► Link to Winstar WF39B series web page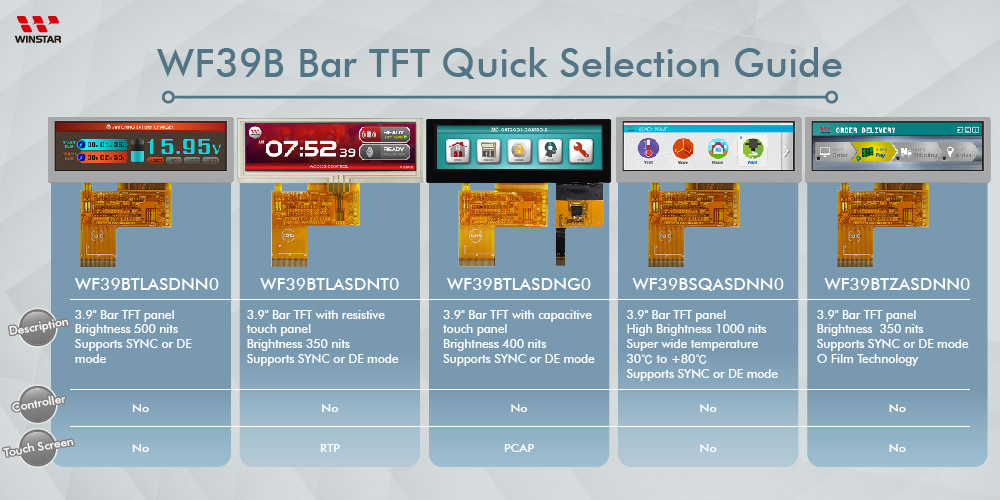 Back to List