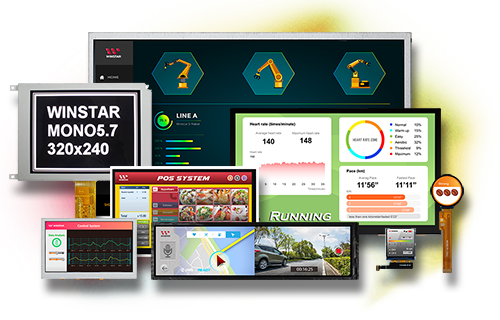 TFT LCD, TFT Display, TFT LCD Display Module
More than 250 TFT standard items on line
TFT LCD Display Module Manufacturer
Winstar is a global leading Manufacturer of TFT LCD display based in Taiwan and China. Winstar offers a wide product range of small to medium sizes TFT display modules in sizes ranging such as 0.96",1.28", 1.77, 2",
2.4"
,
2.8"
,
3.2"
,
3.5"
,
4.3
",
5
"
5.6
",
5.7
",
7
",
8"
,
9"
, 10.1",
10.2"
,
12.1"
,
12.3"
and 15" TFT (diagonal size of the active area) and so on . There are more than 250 TFT standard models listed on this website; furthermore, almost each item is acceptable to derivate from the standard items to meet the customers' requirement.
Winstar TFT displays are qualified under industrial standard including standard TFT-LCD modules, IPS TFT, High brightness TFT LCD (
sunlight readable display
),
TFT panels with controller boards
, Bar Type TFT, Wide Temperature TFT LCD, Winstar Clever System TFT and
Touch screen display
. These displays include landscape or portrait modes. Winstar has Mono TFT displays and full color TFTs in line, these displays are available in various resolutions as well as touch screen optional in
resistive
and
projected capacitive
(
PCAP touch screen
) technology. Many of our TFT display modules have more than one interface available including MCU, RGB, TTL, LVDS and MIPI DSI. Winstar TFT modules are perfect for a number of applications including industrial control, coffee machine, medical equipment, POS system, automation, GPS navigator, white goods, energy control, telecoms, medical equipment and etc.