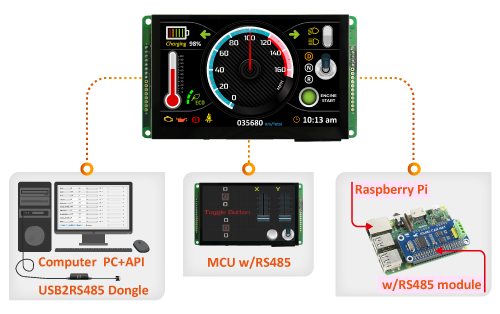 RS485 Modbus Smart LCD Display, Display RS485, Modbus
WINSTAR Smart Display RS485 Series offers an out-of-the-box Modbus development experience to you, providing below benefits to lower your development costs and speed up your time-to-market expectations.

1.The 485TFT is pre-loaded with standard UI objects to enable speedy design.
2.Communication ranges up to a hundred feet rather than just a few inches!
3.You can add more displays into the daisy chain which increases the product extendibility.
4.IPS TFT display with wider viewing angle optional.
Speed time-to-market by using Smart Display 485 TFT Series
And what happens when you don't?
W/O Using Smart Display RS485:
You have to design UI widgets and functions ALL by yourself.
You will need advanced coding skills.
Development will be very time consuming
Using Smart Display RS485:
Design the UI without writing a line of code using WINSTAR GUI builder!(

►

Link to GUI Builder Introduction

)
Coding skill is NOT A MUST since the user interface is well defined as objects
Get started quickly! Perfect for fast and easy integration of a HMI for literally any application.
Try before you buy! Contact us to download WINSTAR GUI Builder application.
Designed with STM32F series MCU and Support STMicroelectronics' (ST) software development tools
WINSTAR Smart Display products are designed with ST controller which supports ST development tools like TouchGFX and STM32CubeIDE. You can also use ST tools to design WINSTAR Smart Display modules besides GUI builder.