50x16 OLED Graphic Display 1.26"
Model No. WEG005016A
►Graphic OLED Display
►OLED 1.26"
►Structure: COB
►50 x 16 Dot Matrix
►Built-in Controller WS0010-TX
►5V power supply
►1/16 duty cycle
►Interface: 6800, option 8080, SPI
►Display Color: White / Yellow / Blue / Green
DESCRIPTION
Winstar monochrome 50x16 pixel OLED graphic display model no. WEH005016A has the same outline size of 58.00 x 32.00 mm, VA size of 38.00 x 16.00 mm and pin out as Winstar STN LCD standard item no. WH0802A. If you are planning a new design and you are currently using similar Winstar WH0802A LCD modules, you can choose this display WH005016A. You will need a very small modification to your PCB layout to your design without changing the mechanical part for your product!
This OLED module is lightweight, low power consumption since it only powers the pixels that are necessary. The WEG005106A OLED display has different interfaces available, default 6800 or options 8080 and SPI. These COB OLEDs have the advantages of easily fixed modules on customers' applications because of having PCB board on it.
DRAWING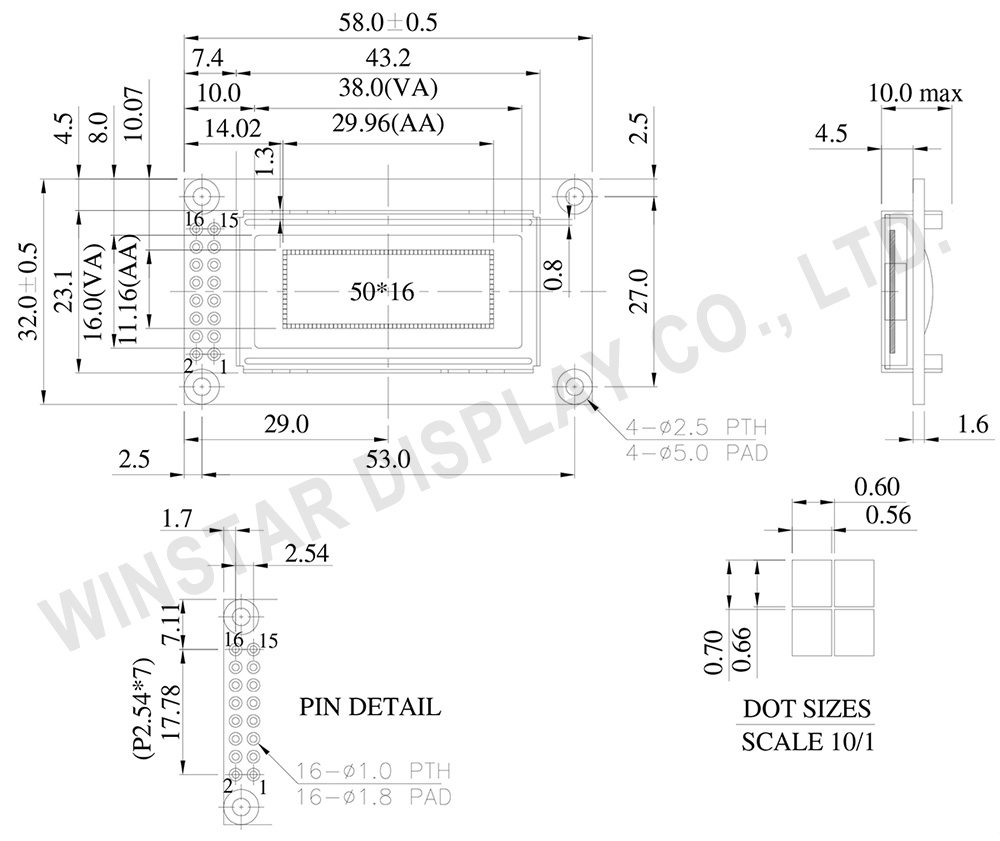 Data source ref: WEG005016AWPP5N00100
SPECIFICATIONS
Interface Pin Function
| Pin No. | Symbol | Level | Description |
| --- | --- | --- | --- |
| 1 | VSS | 0V | Ground |
| 2 | VDD | 5.0V | Supply Voltage for logic |
| 3 | NC | - | |
| 4 | RS | H/L | H: DATA, L: Instruction code |
| 5 | R/W | H/L | H: Read(Module→MPU) L: Write(MPU→Module) |
| 6 | E | H,H→L | Chip enable signal |
| 7 | DB0 | H/L | Data bit 0 |
| 8 | DB1 | H/L | Data bit 1 |
| 9 | DB2 | H/L | Data bit 2 |
| 10 | DB3 | H/L | Data bit 3 |
| 11 | DB4 | H/L | Data bit 4 |
| 12 | DB5 | H/L | Data bit 5 |
| 13 | DB6 | H/L | Data bit 6 |
| 14 | DB7 | H/L | Data bit 7 |
| 15 | NC | - | |
| 16 | NC | - | |
Mechanical Data
Item
Dimension
Unit
Dot Matrix
50 x 16 Dots
-
Module dimension
58.0 x 32.0 x 10.0(MAX)
mm
View area
38.0 x 16.0
mm
Active area
29.96 x 11.16
mm
Dot size
0.56 x 0.66
mm
Dot pitch
0.60 x 0.70
mm
Panel Type
OLED , Monochrme
Duty
1/16
IC
WS0010-TX
Interface
6800, option 8080, SPI
Size
1.26 inch
Absolute Maximum Ratings
| Item | Symbol | Min | Max | Unit |
| --- | --- | --- | --- | --- |
| Operating Temperature | TOP | -40 | +80 | °C |
| Storage Temperature | TST | -40 | +85 | °C |
| Supply Voltage For Logic | VDD-VSS | -0.3 | 5.3 | V |
Electronical Characteristics
| Item | Symbol | Condition | Min | Typ | Max | Unit |
| --- | --- | --- | --- | --- | --- | --- |
| Supply Voltage For Logic | VDD-VSS | - | 4.8 | 5.0 | 5.3 | V |
| Input High Volt. | VIH | - | 0.8xVDD | - | VDD | V |
| Input Low Volt. | VIL | - | GND | - | 0.2xVDD | V |
| Output High Volt. | VOH | IOH=-0.5mA | 0.8xVDD | - | VDD | V |
| Output Low Volt. | VOL | IOL=0.5mA | GND | - | 0.2xVDD | V |
| 50% Check Board Operating Current | IDD | VDD=5V | - | 19 | 28.5 | mA |
Search keyword: 50x16 oled, oled 50x16, 1.26" oled, 1.26 oled, 1.26 inch oled, oled 1.26", oled 1.26