SPI 240x320 TFT LCD 2.4"
Model No. WF24KTLAJDNN0
►240×320 LCD
►Size: 2.4"
►Resolution : 240×320 dots
►View Direction:6H
►Interface: SPI
►IC Part No.: Himax8347-I
►Control-Board: No
►Brightness(cd/m²): 500
►Frame Through Hole: No
►Touch Screen: Without Touch Screen
DESCRIPTION
WF24KTLAJDNN0 is a diagonal size 2.4 inch TFT-LCD module with resolution 240x320 pixels. This module is built in with Himax8347-I IC; it supports 4-wire SPI interface, supply voltage for analog (VDD) range from 2.4V to 3.3V. This module is having Glare surface panel, View Direction 6 o'clock, Gray scale inversion 12 o'clock, contrast ratio 500:1.
WF24K TFT-LCD module is Portrait mode with brightness 500 nits (typical value). The module also is available for Resistive Touch Screen (RTP) optional. WF24K can be operating at temperatures from -20℃ to +70℃; its storage temperatures range from -30℃ to +80℃.
DRAWING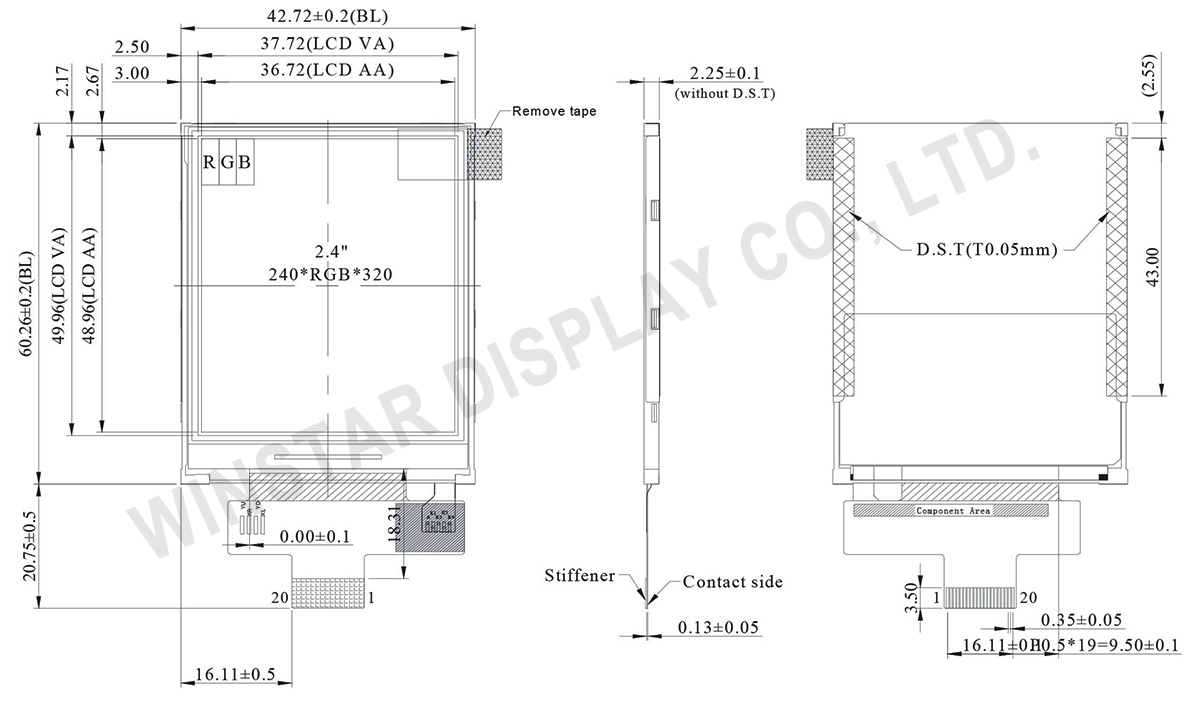 SPECIFICATIONS
Interface
NO
Symbol
Function
1
GND
Ground
2
LED+
Anode of LED backlight.
3
LED-
Cathode of LED backlight.
4
GND
Ground
5
VDD
Power supply(TYP:2.8V).
6
RESET
System reset pin.
7
SDA
Serial data input pin and output pin(SDA) in serial bus system interface I.
Serial data input pin (SDI) in serial bus system interface II. The data is inputted on the rising edge of the SCL signal.
If not used, please let it open or connected to VSSD.
8
SCL
(NWR) Write enable pin I80 parallel bus system interface.
(SCL) server as serial data clock in serial bus system interface when IFSEL=0.
Fix it to IOVCC or VSSD level when not used.
9
CS
Chip select signal.
Low: chip can be accessed;
High: chip cannot be accessed. Must be connected to VSSD if not in use.
10
RS
Command / parameter or display data selection pin
11
GND
Ground
12
SDO
Serial data output pin (SDO) in serial bus system interface II.
If not used, please open this pin.
13
TE
Tearing effect output.
If not used please open this pin
14
IM3
serial interface I / serial interface II
15
GND
Ground
16
NC
No connect
17
NC
No connect
18
NC
No connect
19
NC
No connect
20
GND
Ground
General Specifications
Item
Dimension
Unit
Size
2.4
inch
Dot Matrix
240 × RGB × 320(TFT)
dots
Module dimension
42.72(W) × 60.26(H) × 2.25(D)
mm
Active area
36.72 × 48.96
mm
Dot pitch
0.153 × 0.153
mm
LCD type
TFT, Normally White, Transmissive
View Direction
6 o'clock
Gray Scale Inversion Direction
12 o'clock
Interface
SPI
Aspect Ratio
Portrait
Backlight Type
LED, Normally White
Touch Panel
Without Touch Panel
Surface
Glare
Absolute Maximum Ratings
| Item | Symbol | Min | Typ | Max | Unit |
| --- | --- | --- | --- | --- | --- |
| Operating Temperature | TOP | -20 | - | +70 | ℃ |
| Storage Temperature | TST | -30 | - | +80 | ℃ |
Electrical Characteristics
| Item | Symbol | Condition | Min | Typ | Max | Unit |
| --- | --- | --- | --- | --- | --- | --- |
| Supply Voltage For Analog | VDD | - | 2.4 | | 3.3 | V |
| Supply Current For LCM | IDD | - | - | 5 | 7.5 | mA |
Search keyword: tft 2.4, tft 2.4", 2.4 tft lcd, 2.4" tft lcd, 2.4 inch tft lcd, tft lcd 2.4, 2.4 tft display, 2.4" tft display, 2.4 inch tft display, tft display 2.4, tft display 2.4", 240x320 lcd