8" Resistive TFT Display with Controller Board
Model No. WF80PTIFGDBTB
►Resistive Display
►Size : 8 inch
►Resolution : 800 x 480 dots
►View Direction : 12H
►Interface : MCU
►Controller IC:RA8875
►Control-Board : Yes
►Brightness(cd/m2) : 320
►Frame Through Hole : No
►Touch Screen : Resistive Touch Panel (RTP)
Description
The WF80PTIFGDBTB is an 8-inch, 800×480 pixels, full color TFT-LCD display module with resistive touch panel and an aspect ratio of 16:9. This module boasts a module dimension of 192.8 × 116.9 mm and an active area size of 176.64 × 99.36 mm. It features a brightness of 300 cd/m2 (typical value) and a contrast ratio of 500:1 (typical value).
WF80PTIFGDBTB: 8 inch Winstar P Series Resistive TFT Display with Controller Board. Benefits include:
P Series TFT LCD modules integrated a 36 pin-out connector on RA8875 controller board and all connectors are the same direction.
P Series TFT LCD modules are available in 8 bit and 16 bit parallel interface options.
The pin no. 33 ~ 36 pre-defined as backlight supply.
P Series TFT modules are built in backlight driver IC.
Resistive Touch Screen option is built-in on the RA8875 controller board.
P Series TFT modules support Chinese character, backlight brightness adjustment, Flash Memory and touch panel driver.
This module operates within a temperature range of -20°C to +70°C, with storage temperatures spanning from -30°C to +80°C. The supply voltage for the LCM ranges from 3.0V to 3.6V, with a typical value of 3.3V.
The WF80PTIFGDBNB finds practical application in a variety of fields, including industrial control displays such as human-machine interface displays, medical diagnostic equipment like ultrasound diagnostic devices and medical monitors, automation system control panels, and entertainment equipment displays, particularly gaming consoles. However, these applications represent only a subset of the module's potential uses. In practice, it can be applied in numerous other products depending on the specific requirements and designs of manufacturers.
DRAWING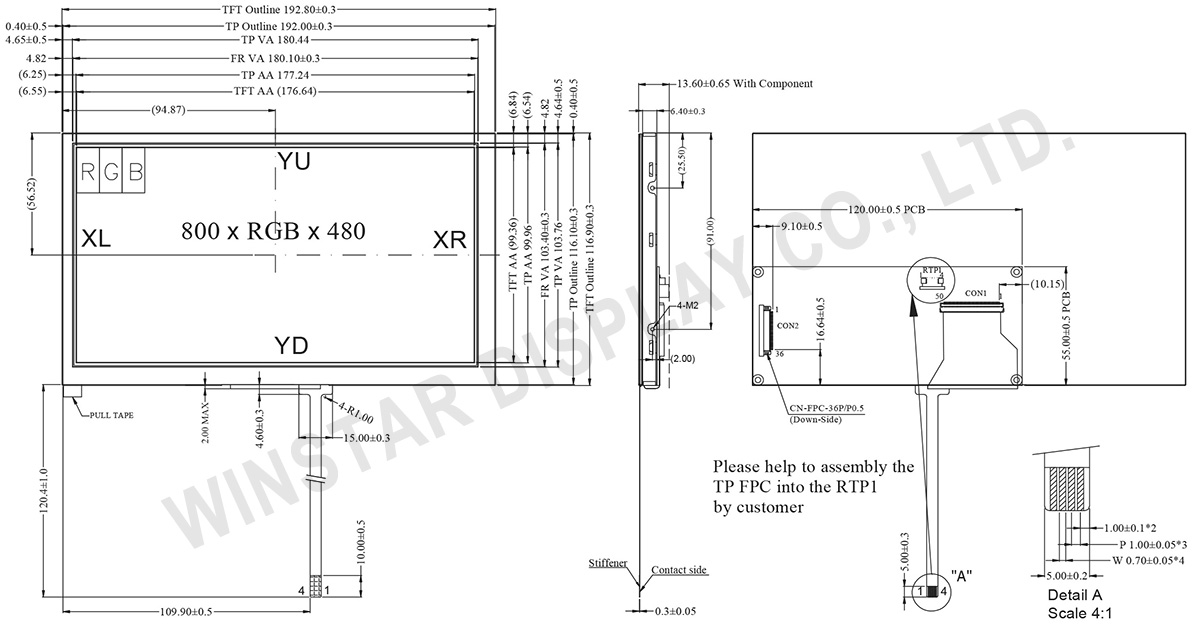 SPECIFICATIONS
Interface
| Pin | Symbol | Function |
| --- | --- | --- |
| 1 | GND | System ground |
| 2 | VDD | Power Supply : +3.3V |
| 3 | NC | No connection |
| 4 | RS | Data/Command select |
| 5 | WR | Write strobe signal |
| 6 | RD | Read strobe signal |
| 7~22 | DB0~DB15 | Data bus |
| 23 | WAIT | Wait Signal Output(H:active) |
| 24 | INT_RTP | RTP Interrupt |
| 25 | CS | Chip select |
| 26 | RESET | Hardware reset |
| 27 | LR | Left / right selection; Default L/R=H |
| 28 | UD | Up/down selection; ; Default U/D=L |
| 29~32 | NC | No connection |
| 33~34 | VLED- | Power for LED backlight cathode(GND) |
| 35~36 | VLED+ | Power for LED backlight anode(+5V) |
General Specifications
Item
Dimension
Unit
Size
8.0
inch
Dot Matrix
800 × RGB × 480(TFT)
dots
Module dimension
192.8(W) × 116.9(H) × 13.6(D)
mm
Active area
176.64 × 99.36
mm
Dot pitch
0.2208 × 0.2070
mm
LCD type
TFT, Normally White, Transmissive
View Direction
12 o'clock
Gray Scale Inversion Direction
6 o'clock
Aspect Ratio
16:9
Backlight Type
LED,Normally White
Controller IC
RA8875
Interface
Digital 8080 family MPU
Touch Panel
Resistive touch panel (RTP)
Surface
Anti-Glare
Absolute Maximum Ratings
| Item | Symbol | Min | Typ | Max | Unit |
| --- | --- | --- | --- | --- | --- |
| Operating Temperature | TOP | -20 | - | +70 | ℃ |
| Storage Temperature | TST | -30 | - | +80 | ℃ |
Electrical Characteristics
| Item | Symbol | Condition | Min | Typ | Max | Unit |
| --- | --- | --- | --- | --- | --- | --- |
| Supply Voltage For LCM | VDD | - | 3.0 | 3.3 | 3.6 | V |
| Supply Current For LCM | IDD | - | - | 199 | 300 | mA |
Search keyword: tft 8, tft 8", 8 tft lcd, 8" tft lcd, 8 inch tft lcd, tft lcd 8, 8 tft display, 8" tft display, 8 inch tft display, tft display 8, tft display 8", 8.0 tft lcd