800x480 ST-5623 TFT LCD Display Module 7"
Model No. WF70A2TIAGDNN0
►Size : 7 inch
►Resolution : 800x480 dots
►View Direction: 12H
►Interface : RGB
►Driver IC : Source IC: ST-5623D, Gate IC: ST5091D
►Control-Board : No
►Brightness(cd/m²) : 400
►Frame Through Hole : No
►Touch Screen : No
DESCRIPTION
WF70A2TIAGDNN0 is a color TFT LCD with WVGA 800x480 resolution, diagonal size 7 inch. This TFT model is built in with ST-5623 source driver IC and ST-5091 gate driver IC. WF70A2TIAGDNN0 supports RGB interface; it's available for Resistive Touch Screen (RTP) and Projected Capacitive Touch Screen (CTP) optional, as well as high brightness option for this model.
The supply voltage for logic (VCC) of WF70A2TIAGDNN0 is from 3.0V to 3.6V, typical value 3.3V, Anti-Glare surface panel, View Direction 12 o'clock, Gray scale inversion 6 o'clock, and aspect ratio 16:9. It can be operating at temperatures from -20℃ to +70 ℃ and storage temperatures from -30 to +80 ℃.
DRAWING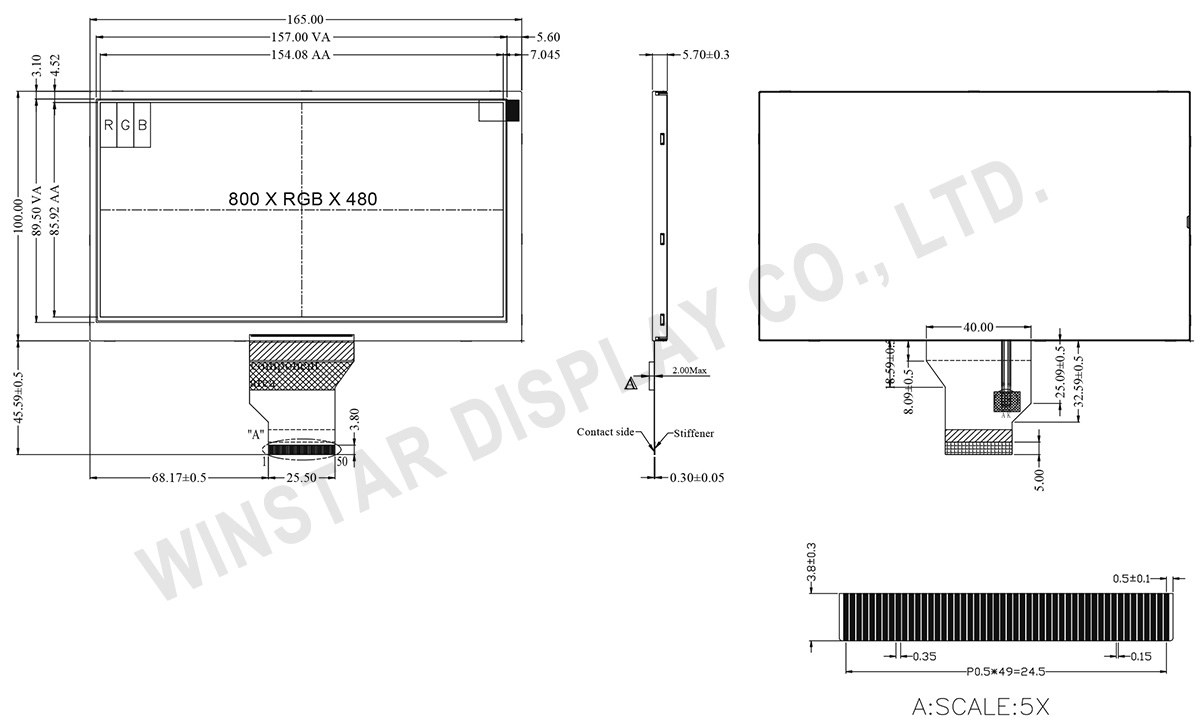 SPECIFICATIONS
Interface
LCM PIN Definition
| Pin | Symbol | Function |
| --- | --- | --- |
| 1 | A | Power supply for backlight |
| 2 | A | Power supply for backlight |
| 3 | K | Backlight ground |
| 4 | K | Backlight ground |
| 5 | GND | Power ground |
| 6 | VCOM | Common voltage |
| 7 | VCC | Power for Digital Circuit |
| 8 | MODE | DE/SYNC mode select |
| 9 | DE | Data Input Enable |
| 10 | VS | Vertical Sync Input |
| 11 | HS | Horizontal Sync Input |
| 12 | B7 | Blue data(MSB) |
| 13 | B6 | Blue data |
| 14 | B5 | Blue data |
| 15 | B4 | Blue data |
| 16 | B3 | Blue data |
| 17 | B2 | Blue data |
| 18 | B1 | Blue data |
| 19 | B0 | Blue data(LSB) |
| 20 | G7 | Green data(MSB) |
| 21 | G6 | Green data |
| 22 | G5 | Green data |
| 23 | G4 | Green data |
| 24 | G3 | Green data |
| 25 | G2 | Green data |
| 26 | G1 | Green data |
| 27 | G0 | Green data(LSB) |
| 28 | R7 | Red data(MSB) |
| 29 | R6 | Red data |
| 30 | R5 | Red data |
| 31 | R4 | Red data |
| 32 | R3 | Red data |
| 33 | R2 | Red data |
| 34 | R1 | Red data |
| 35 | R0 | Red data(LSB) |
| 36 | GND | Power Ground |
| 37 | DCLK | Sample clock |
| 38 | GND | Power Ground |
| 39 | L/R | Left / right selection |
| 40 | U/D | Up/down selection |
| 41 | VGH | Gate ON Voltage |
| 42 | VGL | Gate OFF Voltage |
| 43 | AVDD | Power for Analog Circuit |
| 44 | RESET | Global reset pin. |
| 45 | NC | No connection |
| 46 | VCOM | Common Voltage |
| 47 | DITHB | Dithering function |
| 48 | GND | Power Ground |
| 49 | NC | No connection |
| 50 | NC | No connection |
General Specifications
Item
Dimension
Unit
Size
7.0
inch
Dot Matrix
800 × RGB × 480 (TFT)
dots
Module dimension
165 × 100.0 × 5.7
mm
Active area
154.08 × 85.92
mm
Pixel Pitch
0.1926 × 0.179
mm
LCD type
TFT, Normally White, Transmissive
View Direction
12 o'clock
Gray Scale Inversion Direction
6 o'clock
Aspect Ratio
16:9
Backlight Type
LED, Normally White
Color arrangement
RGB-STRIPE
Driver IC
Source IC: ST-5623D, Gate IC: ST5091D
Touch Panel
Without Touch Panel
Surface
Anti-Glare
Absolute Maximum Ratings
| Item | Symbol | Min | Typ | Max | Unit |
| --- | --- | --- | --- | --- | --- |
| Operating Temperature | TOP | -20 | - | +70 | ℃ |
| Storage Temperature | TST | -30 | - | +80 | ℃ |
Electrical Characteristics
Operating conditions
| Item | Symbol | Min | Typ | Max | Unit |
| --- | --- | --- | --- | --- | --- |
| Supply Voltage For Logic | VCC | 3.0 | 3.3 | 3.6 | V |
| Power voltage | AVDD | - | 10.4 | - | V |
| Power Supply For Current | VCC =3.3V | - | 4.3 | - | mA |
| Power voltage | VGH | 14.5 | 15.0 | 15.5 | V |
| Power voltage | VGL | -10.5 | -10 | -9.5 | V |
| Input signal voltage | VCOM | 3.54 | 4.04 | 4.54 | V |
Search keyword: tft 7, tft 7", 7 tft lcd, 7" tft lcd, 7 inch tft lcd, tft lcd 7, 7 tft display, 7" tft display, 7 inch tft display, tft display 7, tft display 7", 7.0 tft lcd