Issue No. 143
Notice: Shipping Arrangement before Lunar New Year Holiday
Winstar Display Taiwan HQs, branches and China facilities will be closed from February 10 thru February 16, 2021 for Lunar New Year Holiday. We will resume working on February 17, 2021. Please note the below shipping date before and after the holiday. Please work with our Winstar sales persons closely before the holiday if your shipment might be affected. Thank you.
Below is the last shipping date and the first shipping date for this period as reference. We hope the lunar new year of 2021 (Year of the Ox ) ahead bring you Happiness, Joy & Prosperity. May we all be safe, healthy, and happy in year of 2021.
Shipping From China:
►Last shipping date: February 8, 2021
►First shipping date: February 18, 2021
Shipping From Taiwan:
►Last shipping date: February 8, 2021
►First shipping date: February 17, 2021

Winstar Received 2021 Taiwan Excellence Award
We are proud to announce that Winstar Display Co. received 2021 Taiwan Excellence Award from Taiwan government institution. The Taiwan Excellence is an award that is delivered by the Ministry of Economic Affairs and Taiwan External Trade Development Council (TAITRA) to encourage Taiwan industries to upgrade and incorporate Innovalues into their products. Winstar OLED products received 7 times of Taiwan Excellence Awards, that's making us the best PMOLED manufacturer in Taiwan which has won this award for seven times in a row.
Winstar Narrow Border Micro OLED 0.71" WEO004864A rewarded as 2021 Taiwan Excellence product, it is a powerful product featuring all the OLED superior properties, this Micro OLED has significant superiority over other displays. Taiwan Excellence is the highest accolade awarded to products that encapsulate Innovalues. This Award selection is based on four different criteria: R&D, Design, Quality, and Marketing. Winstar Display OLED products are innovative and superior in terms of performance, quality, and design; and our OLED products that have been honored with the year of 2011, 2012, 2014, 2017, 2018, 2019 and 2021 Taiwan Excellence Award. These Awards are the greatest testimony to our product development, design ability, and business performance of Winstar Display products. We care about details. A good design is a combination of detailing. We believe technology should adapt to people's needs, not the other way abound. Welcome to contact us or check our website for more details.
► Link to Winstar WEO004864A web page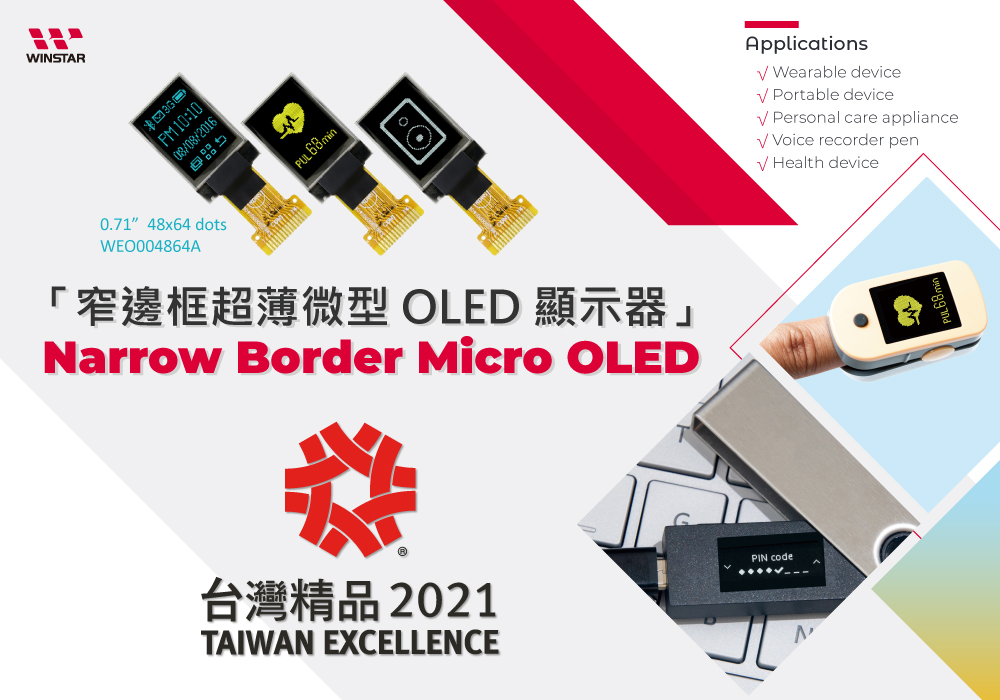 1.04" COG Graphic OLED WEA012832E with PCB
WEA012832E is a COG Graphic with PCB OLED module, which is made of resolution 128x32 pixels, diagonal size 1.04 inch. This PCB board with four mounting holes is an easy method for customers to fix modules on their applications. WEA012832E OLED module is built in with SSD1306 driver IC; it supports 4-wire SPI interface; it also integrated with a Font IC of GT21L16T1W (traditional Chinese) or GT21L16S2W (simplified Chinese). The GT21L16T1W is a 15x16 dots fonts chip; it supports Chinese standard GB12345 traditional Chinese character set, BIG5 traditional Chinese character basic set, Japanese standard JIS0208 Japanese character set (compatible with Unicode), and a total of 150 countries' character. The GT21L16S2W Font IC is a 15x16 dots fonts chip; it supports Chinese standard GB2312 and ASCII code. The supply voltage for logic of WEA012832E is 3V or 5V, driving duty 1/32, the display with 50% Check board current is 20 mA @ VIN 3.3V (typical value).
This OLED module is suitable for smart home application, medical device, smart control and etc. WEA012832E module can be operating at temperatures from -40℃ to +80℃; its storage temperatures range from -40℃ to +85℃.
| WEA012832E | Dimension |
| --- | --- |
| Dot Matrix | 128 x 32 Dots |
| Module dimension | 35.4 × 23.5 × 1.8 mm |
| Active Area | 25.58 × 6.38 mm |
| Pixel Size | 0.176 × 0.176 mm |
| Pixel Pitch | 0.200× 0.200 mm |
| Display Mode | Passive Matrix OLED |
| Display Color | White/Yellow |
| Drive Duty | 1/32 Duty |
| IC | SSD1306 |
| Font IC | GT21L16T1W or GT21L16S2W |
| Interface | SPI |
| Size | 1.04 inch |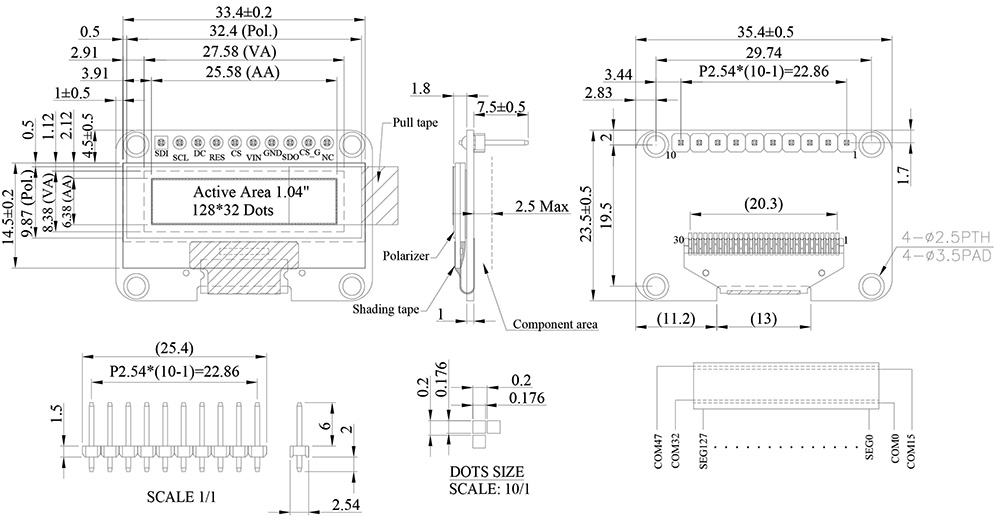 ► Link to Winstar WEA012832E web page

7" High Brightness IPS TFT WF70A9SWAGDNB0 with PCAP
WF70A9SWAGDNB0 is a High Brightness 7 inch IPS Wide Temperature TFT-LCD display with Projected Capacitive Touch screen, made of resolution 800x480 pixels. This module is built in with HX8249-A and HX8678-C driver ICs, it supports 24-bit RGB interface. WF70A9SWAGDNB0 is adopted IPS panel which is having the advantage of wider view angle of Left:80 / Right:80 / Up:80 / Down:80 degree (typical), contrast ratio 1000:1 (typical value), high brightness 800 nits (typical value), glare surface panel, aspect ratio 15:9. The PCAP touch screen is built in with ILI2511 IC which supports USB interface (also available for I2C) and multi touch function.
The supply voltage (VCC) of WF70A9SWAGDNB0 is from 2.7V to 3.6V, typical value 3.3V. It can be operating at temperatures from -30℃ to+80℃ and storage temperatures from -30℃ to +80℃.
| WF70A9SWAGDNB0 | Dimension |
| --- | --- |
| Size | 7 inch |
| Dot Matrix | 800 x RGB x 480(TFT) |
| Module dimension | 165.8 (W) x 106.61 (H) x 8.9(D)mm |
| Active area | 152.40 x 91.44 mm |
| Pixel pitch | 0.1905 x 0.1905 mm |
| LCD type | TFT, Normally Black, Transmissive |
| View Direction | 80/80/80/80 |
| TFT Interface | 24-bit RGB |
| TFT Driver IC | HX8249-A + HX8678-C or Equivalent |
| Aspect Ratio | 15:9 |
| Backlight Type | LED, Normally White |
| PCAP IC | ILI2511 or equivalent |
| PCAP Interface | USB (I2C available) |
| PCAP FW Version: | 6.0.0.0.0.0.0.1 |
| Touch Panel | With PCAP |
| Surface | Glare |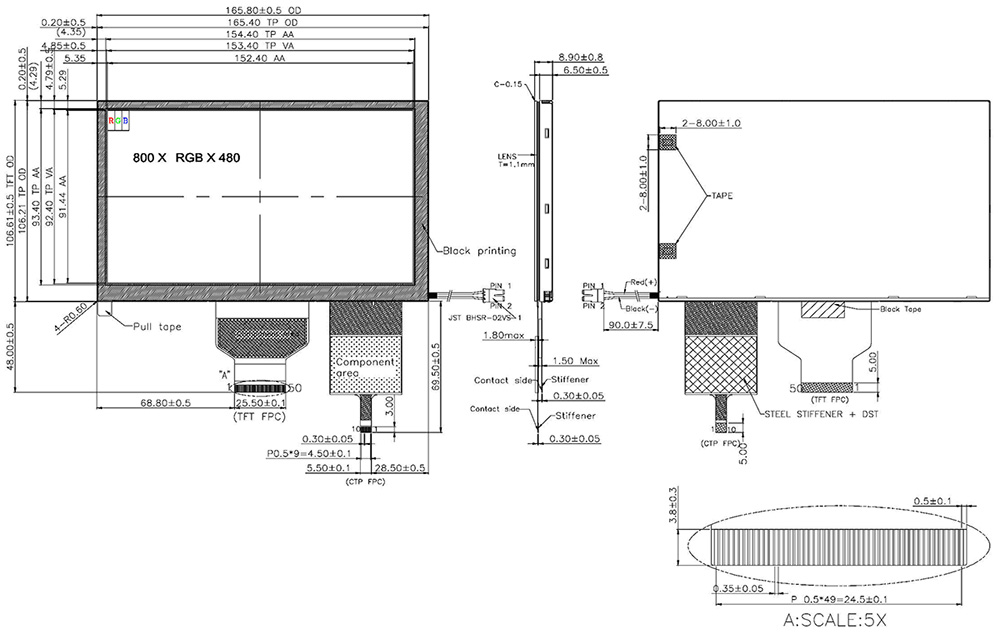 ► Link to Winstar WF70A9SWAGDNB0 web page